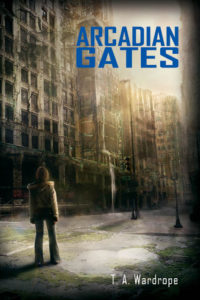 T.A. Wardrope writes weird fiction of many genres, sliding between horror, science fiction and literary as if the boundries were painted in water color on a Seattle sidewalk. Additionally, he writes creative essays on film, music and literature for various online outlets. Occasionally he contributes non-fiction content on the subject of Reptilians for public consideration.
For a period of time, his essay about Alien: Redux was in the top 10 on Reddit. While that was very exciting, it was not quite as exciting as the time he read poetry at the Uptown Bar and Grill and someone in the audience demanded he "whip it out." He may have had a few drinks in him but refrained from the request nonetheless—despite how much he thought it would boost his underground-poet cred.
Overall, he would be remiss in his notable works if he neglected to mention the short story he wrote in fifth grade about a giant robot shark that was created by a homicidal scientist. He amazed himself at the level of gory detail he managed to get into that one. He even remembers a line about chunks stuck in steel teeth. He had a special meeting with school officials about that one.
His novel Arcadian Gates is published by Blastgun Books.